Discover more from Keeping Up With India
Long form pieces on the Indian Startup Ecosystem by @vedicakant & @anmolm_
Over 7,000 subscribers
"WEEK 4"
Weekly recap: June 21 - June 27
Hi folks! Anmol here today, with our weekly recap of the week's news and one in-depth story (from the paid newsletter). The last week has been quite interesting- EdTech companies raising money & acquiring companies, interesting inside stories about Paytm and their internal workings and also 👁️👄👁️
---
Weekly Recap
---
EquityList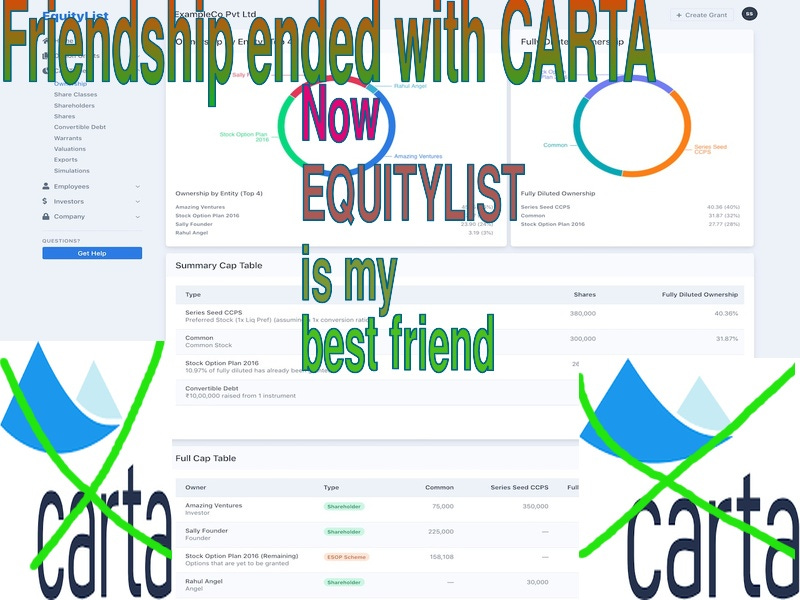 AngelList has launched a product exclusively for the Indian market- EquityList. It helps founders & startups manage their cap tables, as well as manage their employee equity program. The product is quite similar to Carta's core service (which is used by a large portion of the SF Startup Industry).
Currently startups in India don't really have a great way of managing these complex breakdowns, and use a combination of Excel sheets, documents and lawyers to manage their cap tables.
As someone who has used Carta personally, it's honestly a breeze to use and I can't imagine how employees in India understand the equity they're entitled at to the companies they work at.
There is a definite lack of transparency when it comes to employee equity in India, and hopefully products like these helps to change that.
It also makes a bunch of sense that AngelList is offering the EquityList product for free, and given their penetration in the Indian startup world (for their other products), it seems like a no-brainer for companies to use the product.
It is yet to be seen what this product turns into, but I would presume they eventually build out services on the product that they charge companies for (like Carta does).
(If you're a founder in India you should 💯% use EquityList to manage your cap table and employee equity program so head over to their website, schedule a call and let them know you found them on this newsletter)
---
Reads of the Week
---
If you enjoyed reading today's newsletter and would like to get more regular updates, subscribe to the daily WhatsApp newsletter 👇🏽