Discover more from Keeping Up With India
Long form pieces on the Indian Startup Ecosystem by @vedicakant & @anmolm_
Over 7,000 subscribers
"WEEK 2"
Weekly recap: June 7 - June 13
Hi folks! Vedica here, with our second weekly recap of the week's news and one in-depth story (from the paid newsletter). Don't know about all of you, but I've definitely enjoyed the weekend, after pulling some crazy all nighters this week to wrap up the project I'm working on for my day job. It definitely been weird to be so focused on corporate work with everything going on in the US and the world right now, so the weekend has been a good time to regain a little bit of perspective. I'll have some hot takes on working in corporate America soon enough.
---
Anmol here and I have had a very chill week, unlike Vedica. Just wanted to drop in here real quick to mention that one of my favorite Substack (everything.substack.com) [A bundle w/ multiple publications] tweeted out that they would discount their publication (only $100/yr for several posts a week) for subscribers from India so wanted to give them a shoutout here.
everything.substack.com
Everything
Strategy and productivity. What to do, and how to actually get it done.
---
Weekly Recap:
---
Unacademy Group launches Graphy (Free Story)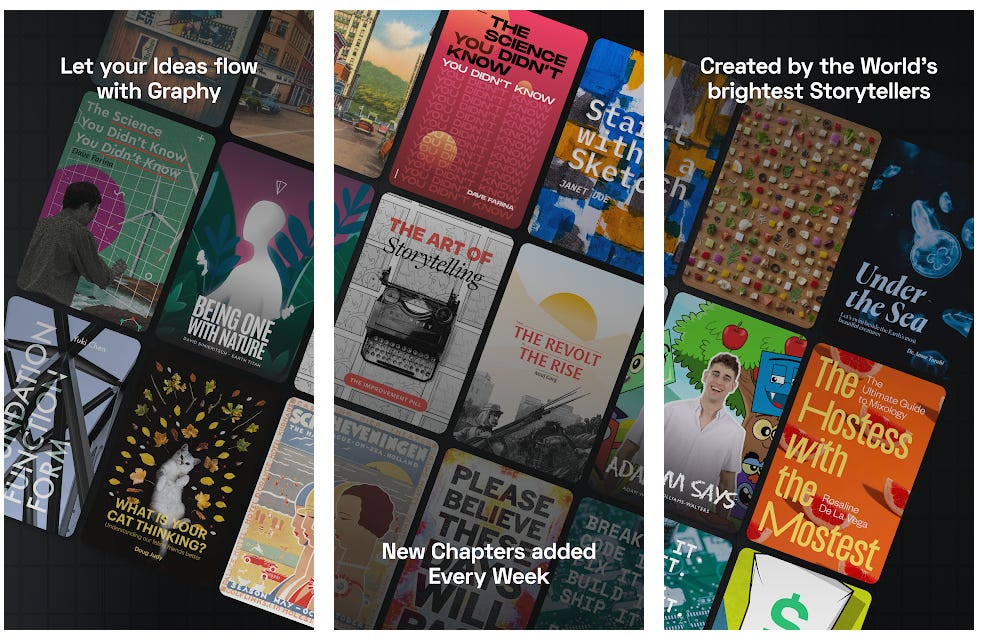 About a month ago I saw something interesting on Gaurav Munjal's (Unacademy CEO) twitter bio. He had changed it from Founder, Unacademy → Founder, Unacademy Group CEO. Which got me wondering what they had cooking up.
And now we know! The couple has a completely separate team that has spun out a new app called Graphy, launching with an Android app currently and an iOS app coming soon. The app is being targeted as an "interactive book" of sorts, with the launch video having the caption- "Books haven't changed since a really really really long time. Maybe it's time to change that"
I took the app for a spin today and was pleasantly surprised. I do want to mention that it doesn't really feel an alternative book to me, but more so high quality production of short form video content (Think TikTok's video interface meets Netflix quality content).
To me, it was quite similar to the new American media app, Quibi, but Graphy (to me) has much more engaging content though currently limited. The platform currently only has a handful of "Graphers" (content creators) who individually price their content upwards of ₹99.
Graphers release their content chapter by chapter (every week I presume) and I'm excited on the pricing side for a couple of reasons- Initially it makes to not have a subscription for all the content until you have enough content so I believe Graphy will switch to that at some point. But I'd also be interested to see if they try out payments on a micro-transaction level (imagine you could pay for each chapter instead of the whole story).
The product is still in beta so this is all very early days, but I'm very curious and excited to see where this hybrid paid entertainment-education product goes.
(Also, the app is available here and the platform just dropped a Graphy with comedian Tanmay Bhatt which is hilarious as heck)
---
Other great reads of the week:
---
If you enjoyed reading today's newsletter and would like to get more regular updates, subscribe to the daily WhatsApp newsletter 👇🏽