"WEEK 19"
Oct 11 - 17
Happy Sunday! Vedica here with our weekly round-up. I'm still dealing with a week's worth of sleep deprivation thanks to work - not fun - so will get straight down to the week's round up. Our long story this week is Anmol's take on Razorpay, which has just become India's latest unicorn.
---
Weekly Recap
---
Razorpay raises a $100M Series D led by GIC & Sequoia India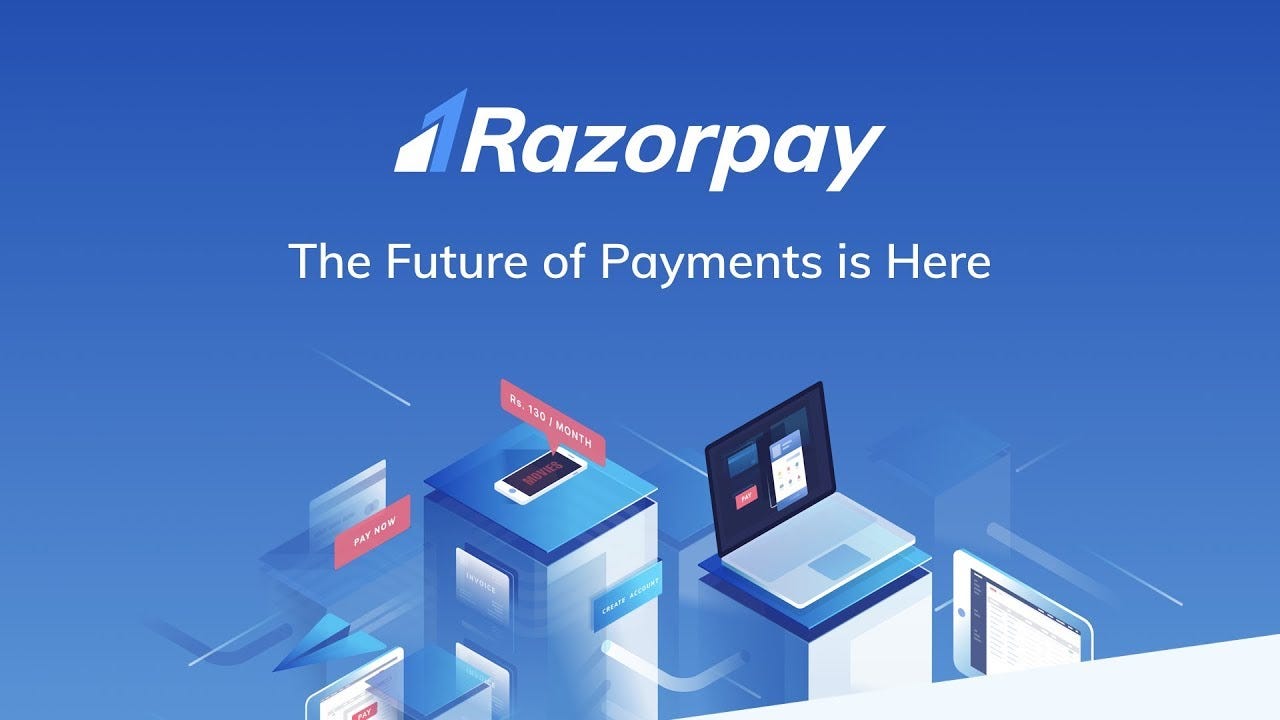 Razorpay just announced a fundraise of $100M from Singapore's sovereign wealth fund GIC and Sequoia India to become India's next unicorn being valued at just over $1B. The company that started as a payment gateway has now expanded into several product verticals in the fintech space including lending (Razorpay Capital) and business banking (Razorpay X)
The company was started in 2014 by Harshil Mathur & Shashank Kumar who had a hard time convincing banks to work with them in the start. The company was part of YC's Winter 2015 batch and raised a $2.6M seed round in 2015 led by Matrix Partners & a bunch of angels. Later that year, they raised a $9 Series A from Tiger Global (Lee Fixel led the investment) followed by a $20M Series B in 2018 (also led by Tiger Global). The company raised a $75M Series C co-led by Sequoia & Ribbit, and the latest round rounds up their fundraising history.
I came across Razorpay for the first time in 2015 when the company launched on Hacker News. As a CS student who went to several hackathons and very familiar with Stripe's APIs, I immediately became a fan of Razorpay- they were the first Indian company that I had come across that built their product around developers focussing on the developer experience (DX) and documentation.
I think it's fair to say that Razorpay in its early days was very inspired by Stripe - both had a core focus on the DX, were YC companies, funded by Sequoia and have Blue logos. But to call Razorpay a Stripe copy is a disservice to the company - I think Razorpay has built quite a monumental company and expects to process $25B in transactions this year for ~10M customers.
Not only has the company been successful in building India's most popular payment gateway, it's adjacent product launches and acquisitions are where I think the company will thrive in the future. The company has only made two acquisitions as of date - ThirdWatch to reduce returns and fraud for Razorpay merchants (fraud is one of the largest concerns for Indian eCommerce companies) and Opfin to help companies automate their payroll.
Payroll management fits into the company's largest push over the last year or so with RazorpayX. The company announced a business banking product called RazorpayX. With this, businesses of all sizes can manage payroll (Opfin), vendor payments, issue corporate credit cards and manage all their financial workflows. The company also launched Razorpay Capital to offer working capital loans to merchants on its platform, partnering with several NBFCs to facilitate the money movement. The company expects 35% of their revenue to come from RazorpayX and Razorpay Capital by March 2021.
The perennial question remains: "What if Stripe expands in India?" People have been asking this since Razorpay's first launch. I think Harshil's answer from their first HN post says a lot about why Stripe hasn't worked in India - "We will always have the local player advantage over Stripe. Payments is closely related to the infrastructure of the country." Stripe has been in India since 2017 but unfortunately hasn't made much progress in the country - they still don't even support UPI payments. It will also take Stripe several years to reach a significant transaction volume in India (as a percentage of their total volume processed) so it might not even be worth for the company to focus on India
And lastly, I think Razorpay has a done a great job so far of not burning a bunch of money - in FY19, the company's total losses were only ₹3 Cr ($410k) and it aims to be profitable in the next couple of years. I'm super bullish on Razorpay and think the company is going to expand on their financial products- either through acquisitions or building internally. It is well set to be the "Central Nervous System for Digital India".
A couple of other reads on Razorpay:
---
What we've read this week
What does Segment do? by Justin Gage
Why Facebook Can't Fix Itself by Andrew Marantz
Reliance: Gateway of India by Packy McCormick
---
If you enjoyed reading today's newsletter and would like to get more regular updates, subscribe to the daily WhatsApp newsletter 👇🏽