Happy Sunday! Vedica here with update today. It's been slightly insane on the West Coast with the wildfires. I woke up to a red sky on Wednesday and spent the whole day thinking I had landed on Mars; it's improved since then but still feels like a sepia-tinged reality. The air quality is Delhi-esque, so I'm definitely missing home! We had fewer updates this week because of the Labour Day weekend here in the US, but lots of interesting news over the week, nonetheless.
---
We're trying out new referral program for Keeping Up With India powered by Nodal, along with a couple of rewards for y'all. If you enjoy reading the newsletter, please refer your friends using the button below - all you need to do is generate a unique link for yourself and share it on Twitter, WhatsApp or any other social platform. You will also soon be able to see a leaderboard of all the people you invite and for the rewards:
10 referrals - you get some Keeping Up With India stickers that I just designed and access to new posts (non-recap) a day early.

25 referrals - a Graphy from Unacademy cofounder Roman Saini on "Method To Madness"- the principles that made him the person he is.

50 referrals - a 30 minute long conversation with either Vedica or me about any topic of your choice.
---
Weekly Recap
---
Groww raises $30M from YC Continuity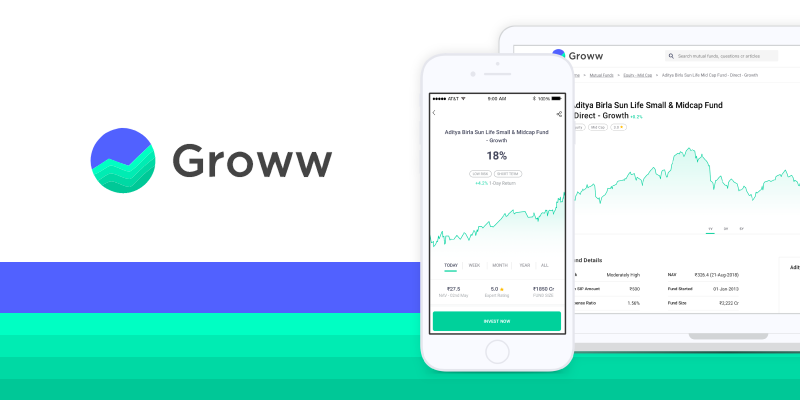 The investment platform, Groww, announced a Series C of $30M led by the YC Continuity Fund and participation from existing investors including Sequoia, Ribbit Capital and Propel Ventures. This is YC's first investment out of their Continuity Fund and was hinted at earlier last week when Vedica interviewed Anu Hariharan (Partner at YC)
The platform allows users to invest in mutual funds & stocks and has a simplistic UI geared for a smartphone to make it easier for younger Indians to get started with investing. While 150M Indians use digital payments apps every month, only 20M of them invest in mutual funds or stocks.
The company started out as a platform for investing in mutual funds, but has expanded to digital gold and Indian stocks in recent months and plans to continue adding different investment products in the future - including the ability to buy stocks of companies listed in the US.
There are already over 8M users who've registered for the mutual funds product, while 200k users have bought stocks on the platform. The company also competes with several players in the Industry including Paytm Money (mostly on the mutual funds side) and Zerodha (on the stocks side) and both companies also see a majority of their usage on mobile platforms.
India is a country where we have historically done a better job saving and investing than some of its western counterparts, and is also now seeing an upsurge of participation in the financial markets with 2 million new stock market investors added in the last quarter alone. And companies like Groww will only help to serve those markets as well as bring more Indians online to invest - I just hope they don't use gimmicky tactics to exploit users.
---
What we've read this week
Building PagarBook by Adarsh Kumar
Armed with lakhs of new viewers, TV bosses quell internal resistance on SSR coverage by Pooja Prasanna
The True Story of Lee Kuan Yew's Singapore by Haonan Li and Victor Yaw
The woman taking over TikTok at the toughest time by Mike Isaac and Taylor Lorenz
---
If you enjoyed reading today's newsletter and would like to get more regular updates, subscribe to the daily WhatsApp newsletter 👇🏽