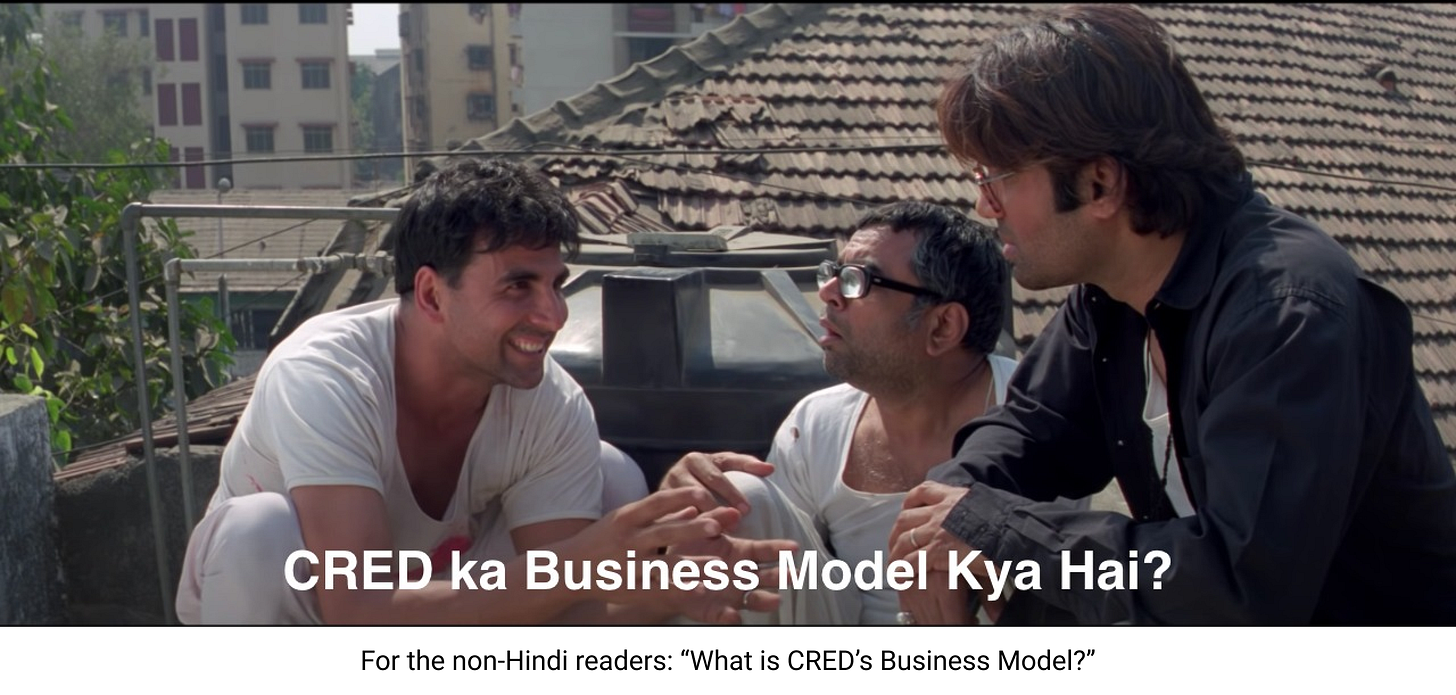 Around Christmas in 2018, I was mindlessly scrolling though Instagram stories when a story on a popular stand-up comedian, Rohan Joshi's account popped up. Rohan was talking about this invite-only credit card app, where you essentially get rewarded for paying your credit card bills. As I did not live in India (and didn't have an Indian credit card, let alone a high credit score), I shot a text to my dad:
"Maybe try this out. Basically offering more rewards for paying your credit card bills thru them. Seems like something that makes 0 economic sense. But rewards look good- https://cred.club"
He, on the other hand, uses multiple credit cards and instantly qualified for an account. And that began my interest, intrigue and obsession into CRED and Kunal Shah's vision of building a product for 1% of India.
---
Background
Before we delve into how CRED works, I want to give a brief background into Kunal Shah's history and his career leading up to CRED. I think the best way to describe Kunal is that he is the most interesting and insightful Indian founder that I have come across. This might have something to do with his background- Kunal is the only successful Indian founder with his roots in philosophy instead of the usual STEM suspects. I think this impacts his worldview in an interesting way.
He previously started a company called FreeCharge, a platform where you could do mobile recharges, pay your utility and DTH bills, as well as get coupons for restaurants and retailers. The company was started in 2010, raised money from Sequoia along the way before being acquired by Snapdeal for $400M (in cash and stock) in 2015. While this was one of the largest exits for an Indian startup at the time (Myntra was acquired by Flipkart in 2014 for ~$280M & RedBus was acquired by ibibo in 2013 for >$100M), the company was later sold to Axis Bank (in 2017) for just $60M.
Kunal then took a break from entrepreneurship, becoming YC's first Indian part-time Partner in 2016 and later being an advisor to Sequoia (FreeCharge's largest backer) in 2017. At the start of 2018, he teased that he was working on a new company and such begins the story of CRED.
What's even more interesting that Kunal & co raised $30M, arguably India's largest seed round, in June that year from Sequoia India, Ru-Net and Ribbit Capital but no one (externally) knew what Kunal was actually working on. CRED's story begins in November where Kunal finally announced (also in a tweet) that the new company's name is CRED and it would be "A platform to celebrate and reward the most creditworthy people of India".
The most obvious question is why it took him 11 month to release a beta version of the platform and app? And the answer is quite simple - he had the luxury of time. I would even go so far as to say that CRED was an overnight success (from a launch perspective) that was 3 years in the making. The company had the first version of the app out in just a couple weeks following that and quickly became popular amongst the Indian influencer crowd.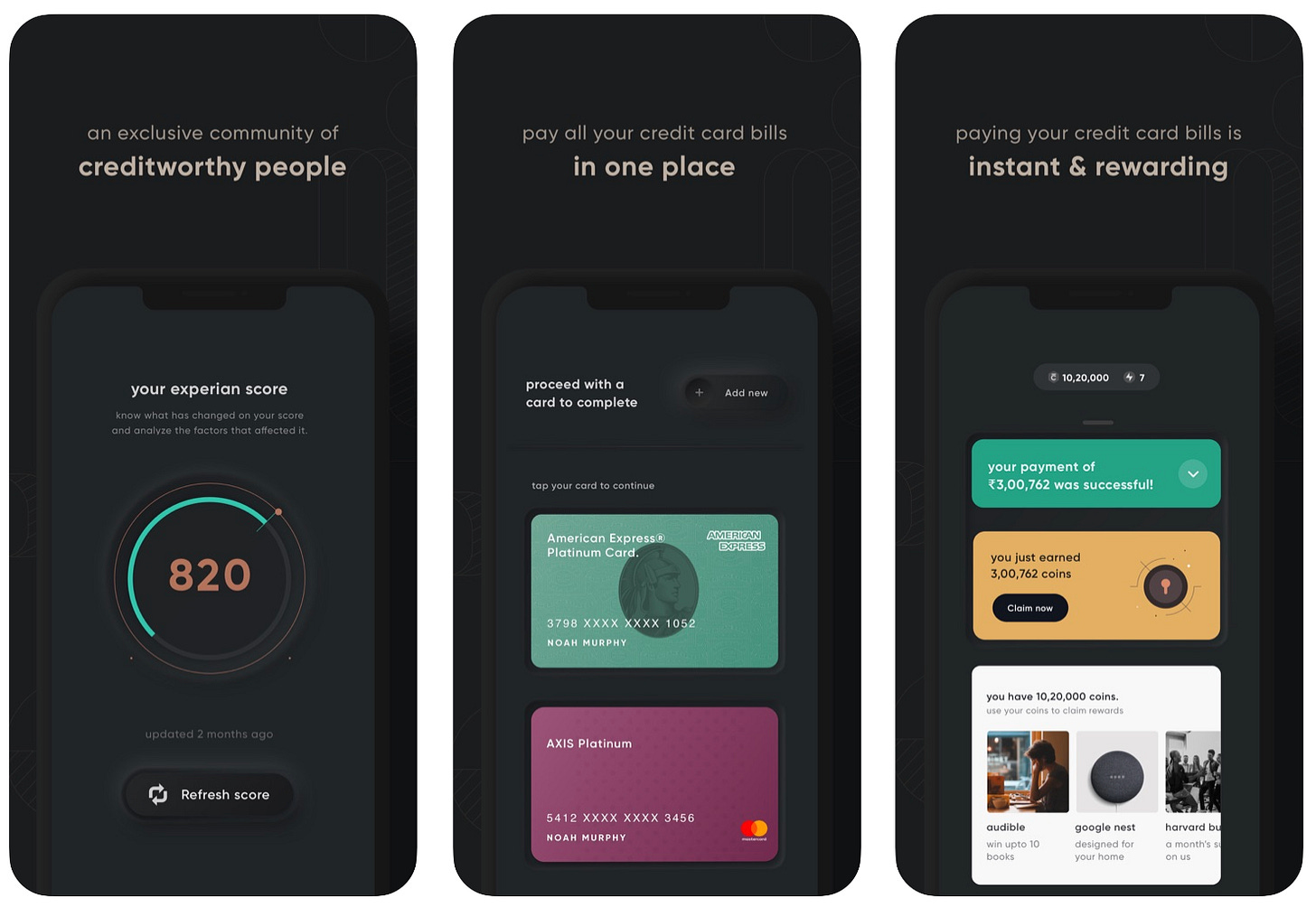 The app, in its initial iteration, was quite simple - add your credit cards to CRED, use CRED to pay your monthly bills, get rewarded (through CRED coins) and then use CRED coins to redeem exclusive rewards from brands you love.
But why CRED? Piecing together what Kunal said in various podcasts, the idea essentially boils down to the fact that no one was really building products and services targeted at the elite of India. By 2018/2019, a significant population of the country was online (>35%) and while new consumer companies were chasing the NBU (Next Billion Users), the Indian premium consumer felt lost or forgotten.
Could a company be built focussing on those users, who are the iPhone users, the premium car owners, and most importantly the credit card users in India? CRED largely aims to build products that make things easier for its community whether it be time management, exclusivity, or services that bring some other sort of convenience. Kunal also has a great quote about why this product would only work for the 1% of India: "Consumers who don't value time won't pay for convenience."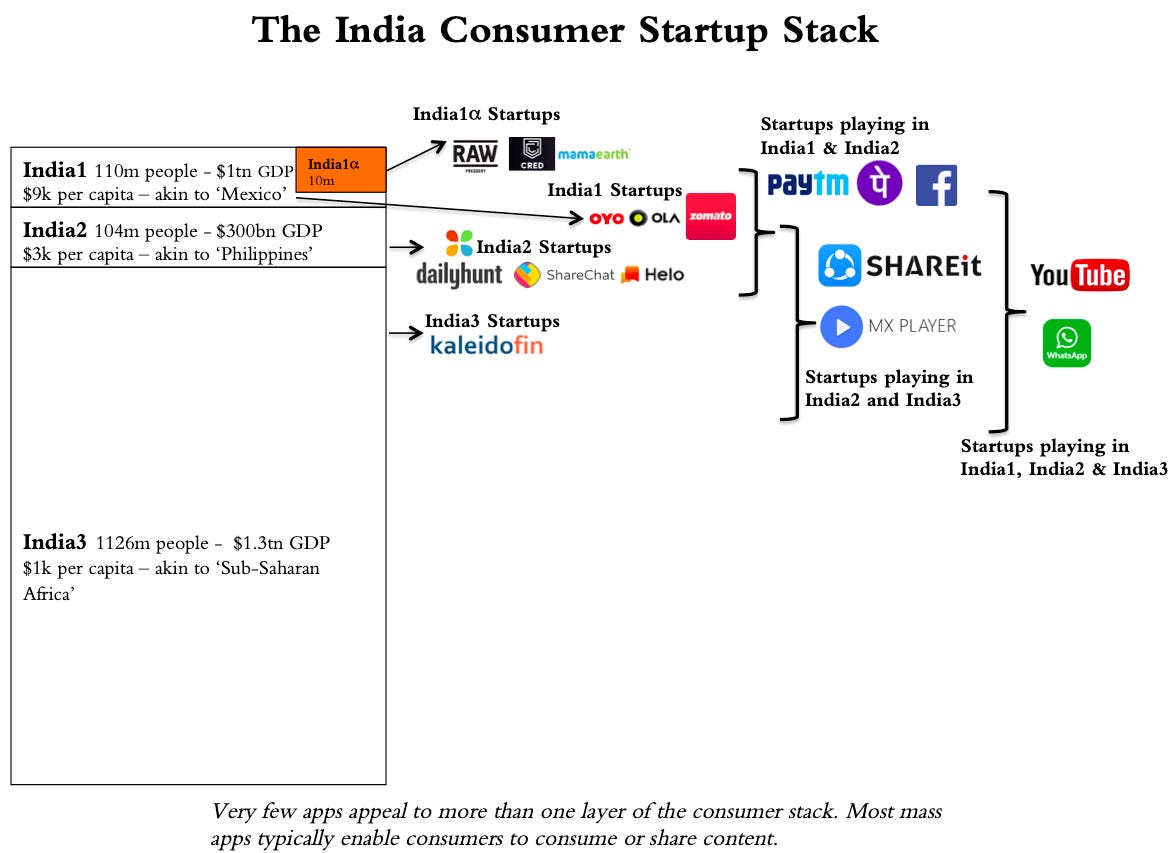 Image from Sajith Pai's article, "India1, Avocado Startups and Product-Market Fit"
Now let's look at the size of the market and the kind of consumer CRED largely targets. Sajith Pai (Director @ Blume Ventures) has a great piece on compartmentalizing the Indian market chiefly into 3 markets: India1, India2 & India3. India1 corresponds to the richest 110M Indians who make up $1T of India's GDP. India1 also has a smaller subset of the richest 10M which is its own market and can be called India 1α.
CRED largely targets this consumer base. These are the folks who own iPhones, holiday in the US or Europe, send their children to study in elite private schools, frequently use DTC products and most importantly (for CRED) own and use their credit cards. India has about 50M credit cards that have been issued, used by about 25M people with the average monthly credit card spend of ~₹12,000.
Credit card spend is not a normal distribution and is probably skewed towards a percentage who use their cards to transact more frequently and spend more money. CRED also, through their branding, seems like a millennial-first company targeting the young adult population who are earning comfortably (~20M Indians made more than 5L in 2018-2019). CRED's ideal customer is probably someone who lives in a big city, earns over 10L, is a millennial and prioritizes convenience.
---
CRED's product journey can be split up into three stages:
Rewarding Consumers (Past)

Building Trust With Consumers (Present)

Delighting Consumers & Monetization (Future)
---
Past
When CRED launched in 2018, it was initially somewhat driven by hype, influencers & exclusivity. I remember when I found the product on Rohan Joshi's Instagram, he was making fun of a fellow standup comedian (who was a IG influencer in her own right) because he had CRED and she didn't. Historically (as Kunal has pointed out multiple times), companies have never incentivized its users to pay their credit card bills, but rather to use their credit card to transact (for a couple of reasons- they generate more revenue when you use your card more often, and also generate revenue on late fees and amount past due). The first step of CRED was to reward its users for paying their bills on time. When you pay your credit card bill(s) on CRED you get 1 CRED coin for every rupee you spent.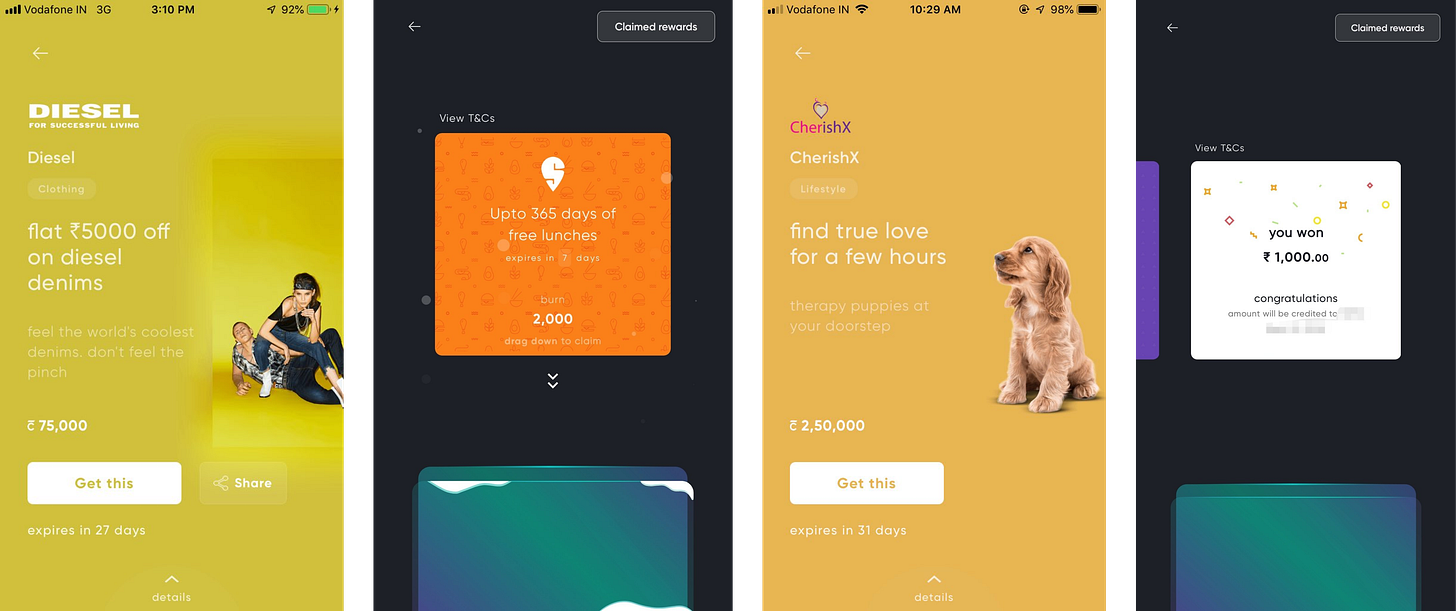 This is where the other side of CRED kicks in, the rewards and partners. When the platform initially launched, CRED was quite aggressive with value of its rewards (which is expected because they wanted to drive users to the platform), but they have somewhat scaled that back in recent times. The CRED rewards ecosystem is also beneficial to CRED's partners.
If you are a new DTC brand and want to target your early adopters (people who typically make & spend more), doing that through online or physical advertisements is not terribly easy because a significant portion of that would also go to consumers who you aren't targeting. CRED helps brands avoid this and target people who are more likely to try and purchase their products.
Also for new products & services, CRED serves as the trust and credibility layer- people trust CRED when they pay their credit cards so inherently are more likely to trust a brand on CRED (if CRED partners with them, they are likely to be trustworthy) vs surfacing the brand through other means.
CRED has also started experimenting with experiences in the physical words (pre-COVID). I was visiting India in May/June last year and a comedian I grew up watching, Russell Peters, was touring in the country. I bought my tickets the usual way (BookMyShow) but when my friend & I reached the venue, we saw a separate entrance reserved for CRED members who paid with CRED coins (50,000) and you could definitely see the envy in the eyes of the people waiting in line at the Box Office. CRED has had several other experiences, largely around cooking and well documented by content members on Twitter (#1, #2, and #3).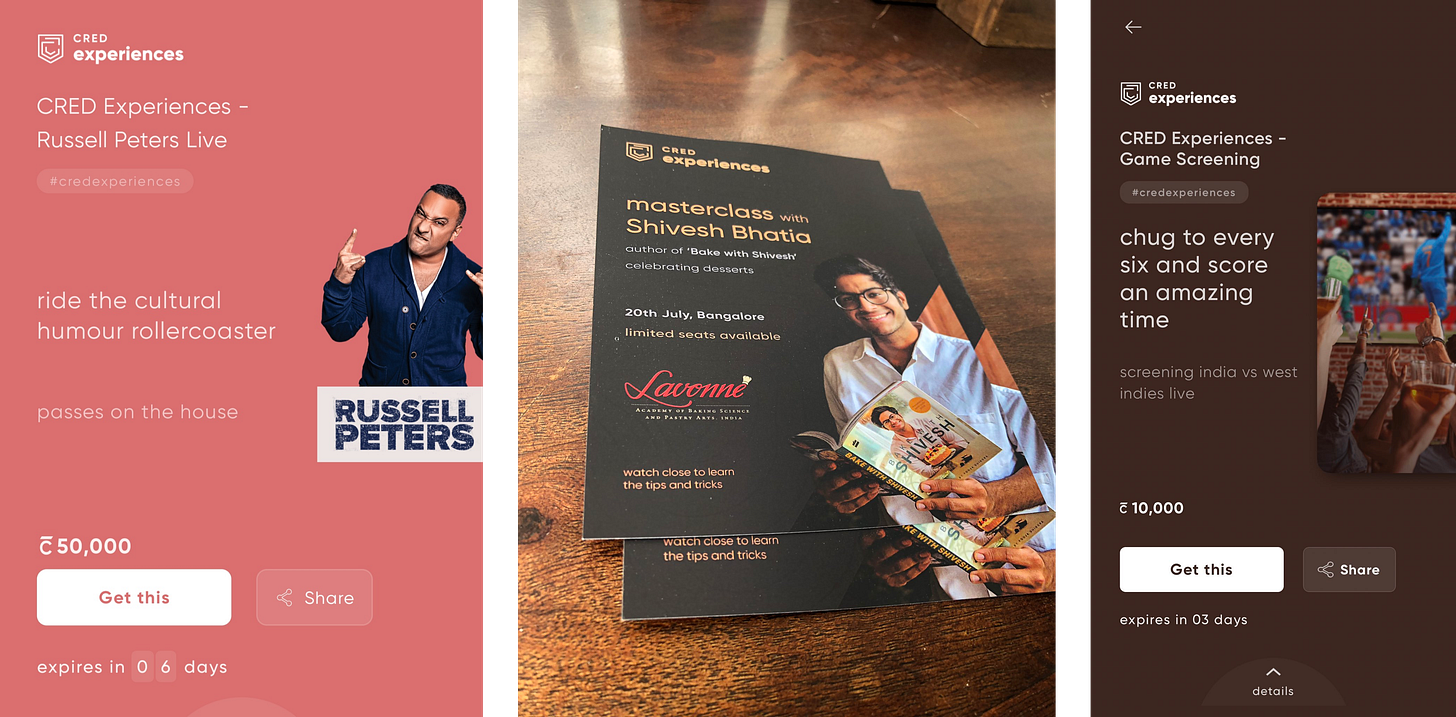 Early users have been largely happy with the app and service, but one early question that emerged was if CRED sold user data because some people felt that it was the only way CRED would make money. I find that idea laughable because it undermines CRED's core mission- building user trust.
---
Present
While the first phase of CRED was about driving consumer interest and creating demand by tapping into the quintessential FOMO of the young and the rich, the current phase of CRED is to make consumers look at CRED at a trustworthy brand. If you interact with a product on a higher frequency, you build up trust in the products and platform. And CRED is doing this a couple ways in particular: i) other financial services; ii) gamification (in rewards); iii) a marketplace for products.
In late April, the company launched two new financial products:
CRED Stash- An instant credit line up to ₹5L, Stash is the easiest way to get credit in India in a completely digital manner. CRED rolled this out in a partnership with IDFC Bank, users can access any amount within their available limit, select their payback term and receive the amount in their bank. Users are charged interest on the amount withdrawn & are only charged a third of the interest rates on credit cards.

RentPay- A way for members to pay their monthly rent to landlords with their credit cards. All you need to do it add the amount, your landlord Bank Account/UPI details and choose a card to pay with. CRED does charge a nominal service fees (up to 1.7%) for the service.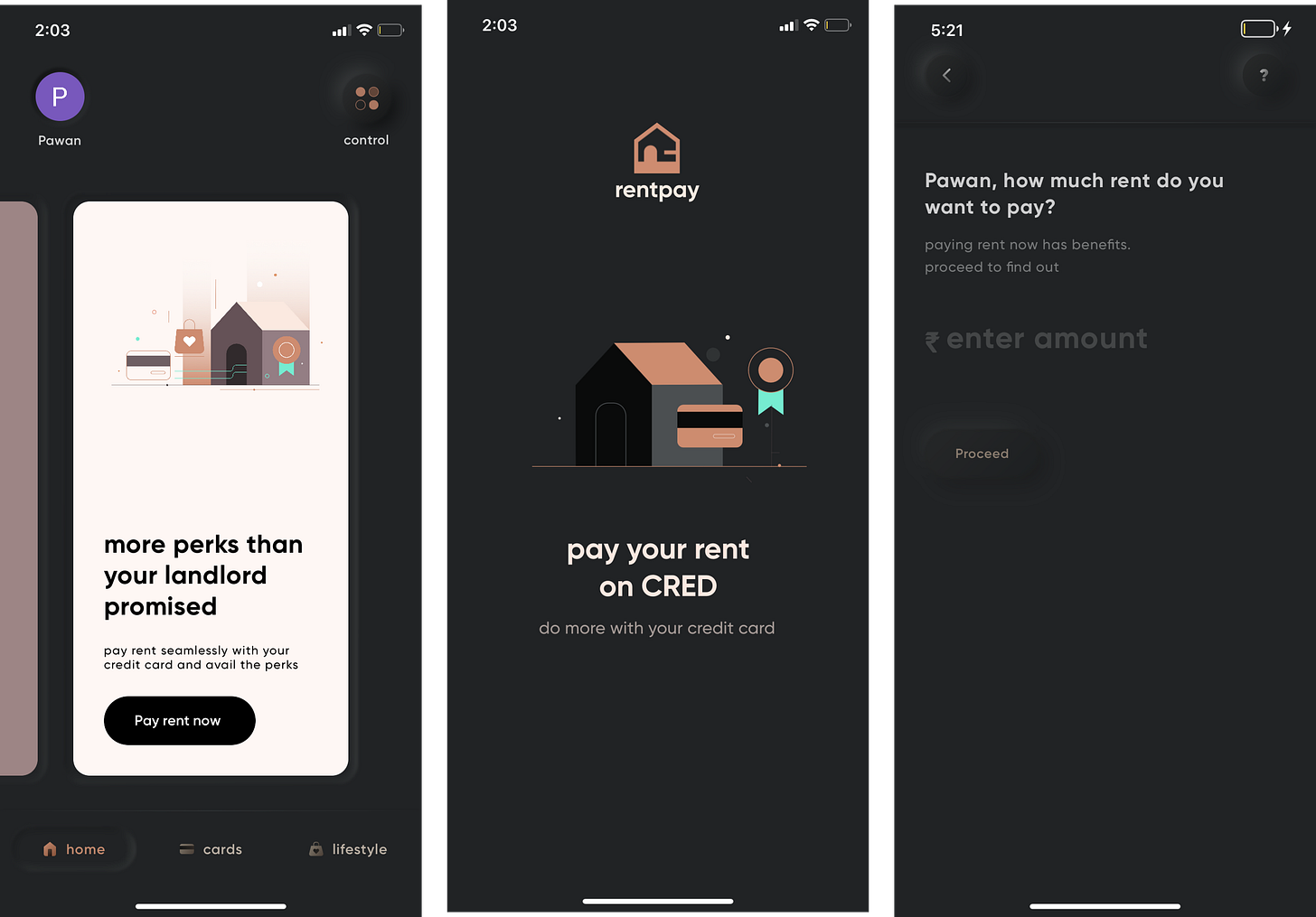 A couple of folks have been critical of the products claiming they don't add enough value to be labelled as 'great' deals, but I disagree with them. Sure, someone can get a personal loan of ₹5L at HDFC or Standard Chartered but the hassle involved in that process might not be worth it for CRED members. Premium members come to CRED for the convenience and are willing to pay for it.
Coming to the RentPay product, critics have similarly brought up the point that competitors exist (that are cheaper) but once again the convenience of paying all your monthly installments on one platform will outweigh slight percentage differences between CRED and a standalone rent pay service (plus all those CRED coins). I can imagine CRED might roll out other credit & financial products in the future (insurance, wealth management in premium offerings).
The eventual goal of these financial products is that members keep coming back to CRED whenever they have to make a financial decision, and CRED inherently builds up trust with them.
---
"INTERMISSION"
(Borrowing this idea from @nbashaw)
This has been a really long piece! Take a break, walk around, get some water.
Y'all ready now? Let's jump back in 🔥🔥🔥
---
The other product CRED has introduced recently is WIN in an effort to gamify the experience of spending your CRED coins. The section has an arcade aesthetic where users can enter raffles to win prizes as well as spend coins to win coupons & free products.
I think CRED has realized that it can't keep up with the rewards that were initially present on the platform (consumers will always be disappointed), so instead they provide them a "game", thereby adding an element of excitement to the usually pretty mundane task of completing a transaction. This serves a two-fold purpose- it helps CRED manage user expectations while delivering on a delightful customer experience.
In the future I can see CRED using notifications to nudge users to try out raffles and games on a semi-frequent basis. It provides them a) a way to spend their coins; b) a way to kill some time when they're bored; but most importantly c) a chance of winning real physical or digital goods. And while you'd only log into CRED once a month to pay your bill, you might use the app more frequently to play games, win prizes and burn coins.
---
One other thing that CRED has slowly started doing, which I think they will expand on more in the future, is selling products (and experiences & services) in the discover section. Owning the E2E flow of purchasing a product (and using CRED coins for a % of the amount) within CRED would result in much better outcomes for both the merchant & the members.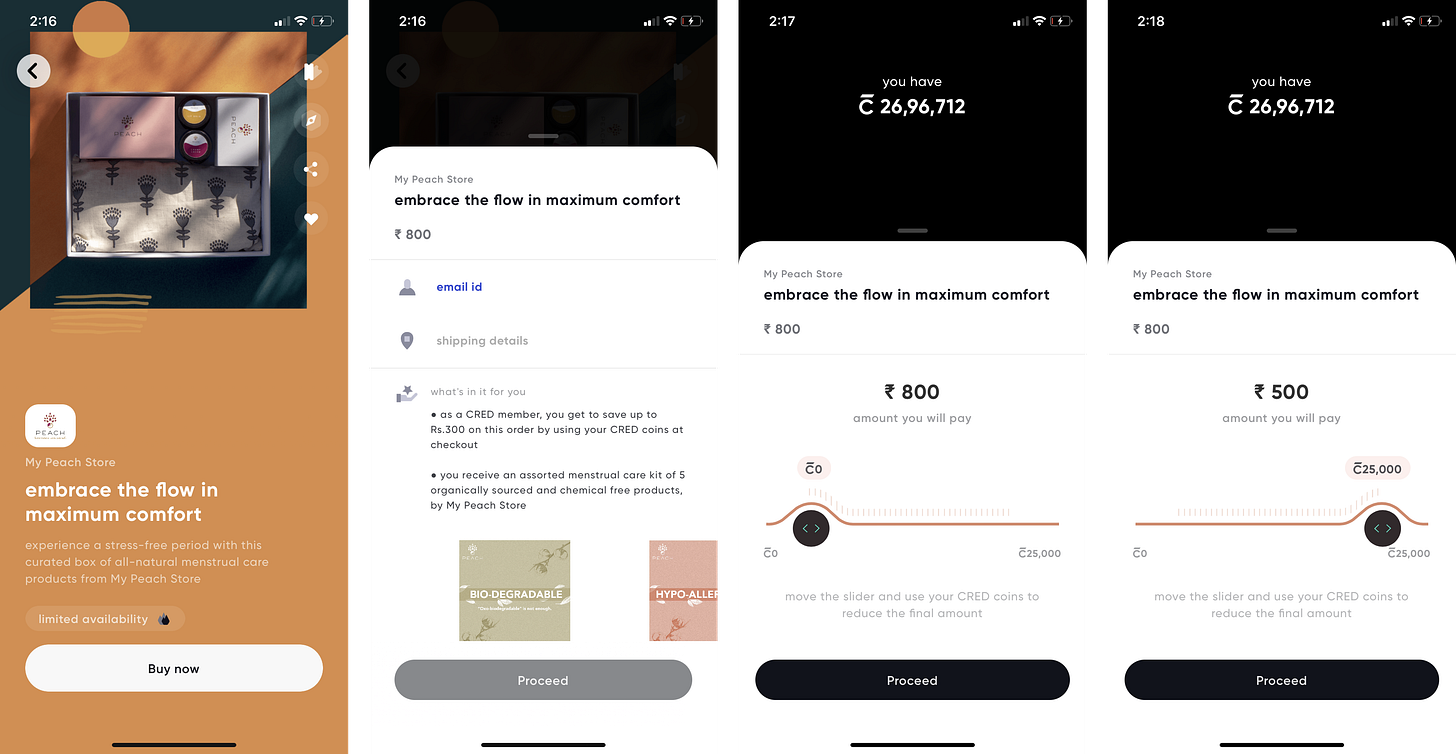 In the prior discovery section, users would use CRED coins to purchase a coupon to avail on other websites to purchase products/services. On some occasions, users might have purchased the the coupon but didn't redeem it (didn't like the choices, forgot about it, etc) which would lead to them being unhappy since they wasted those coins and the merchant losing out on that customer lead.
On the other hand if a merchant has their products directly listed on CRED, when a member purchases the product they are able to use their CRED coins to offset some of the cost and the merchant has a converted lead. I'd argue that buying a product on CRED has a better conversion rate than buying and redeeming a coupon through CRED.
While CRED will never replace Amazon or Flipkart and become the de-facto eCommerce marketplace, but it can definitely be an eCommerce marketplace for premium goods & services. As the platform opens up merchants, consumers would make semi-frequent purchases of clothes, shoes and maybe even jewelry. Plus since CRED knows, through your credit card statements, what you spend your money on they could definitely suggest items that you'd like to purchase.
---
Future
Now we've covered how CRED acquired a consumer base and what it is doing to make the platform be used on a more frequent basis, the question still remains- what is the north star for them? A lot of you are going to find this pretty outrageous, but I think CRED wants to be the American Express in India. Do I think CRED will necessarily provide all the financial services American Express does? No. But I do think they're angling at building a premium card product and lifestyle brand. I think CRED is poised to do so by emulating and building their own versions of some of Amex's popular products.
First off, I think CRED is going to launch their own credit card and akin to Amex's super-premium credit cards- Platinum & Centurion (Fun Fact: Kunal is a Centurion cardholder) which will probably be invite-only for the top spenders of CRED. Why a credit card and how does that help CRED? Well, CRED has the richest Indians as customers already and needs multiple lines of revenue streams to build a huge profitable tech-enabled financial company.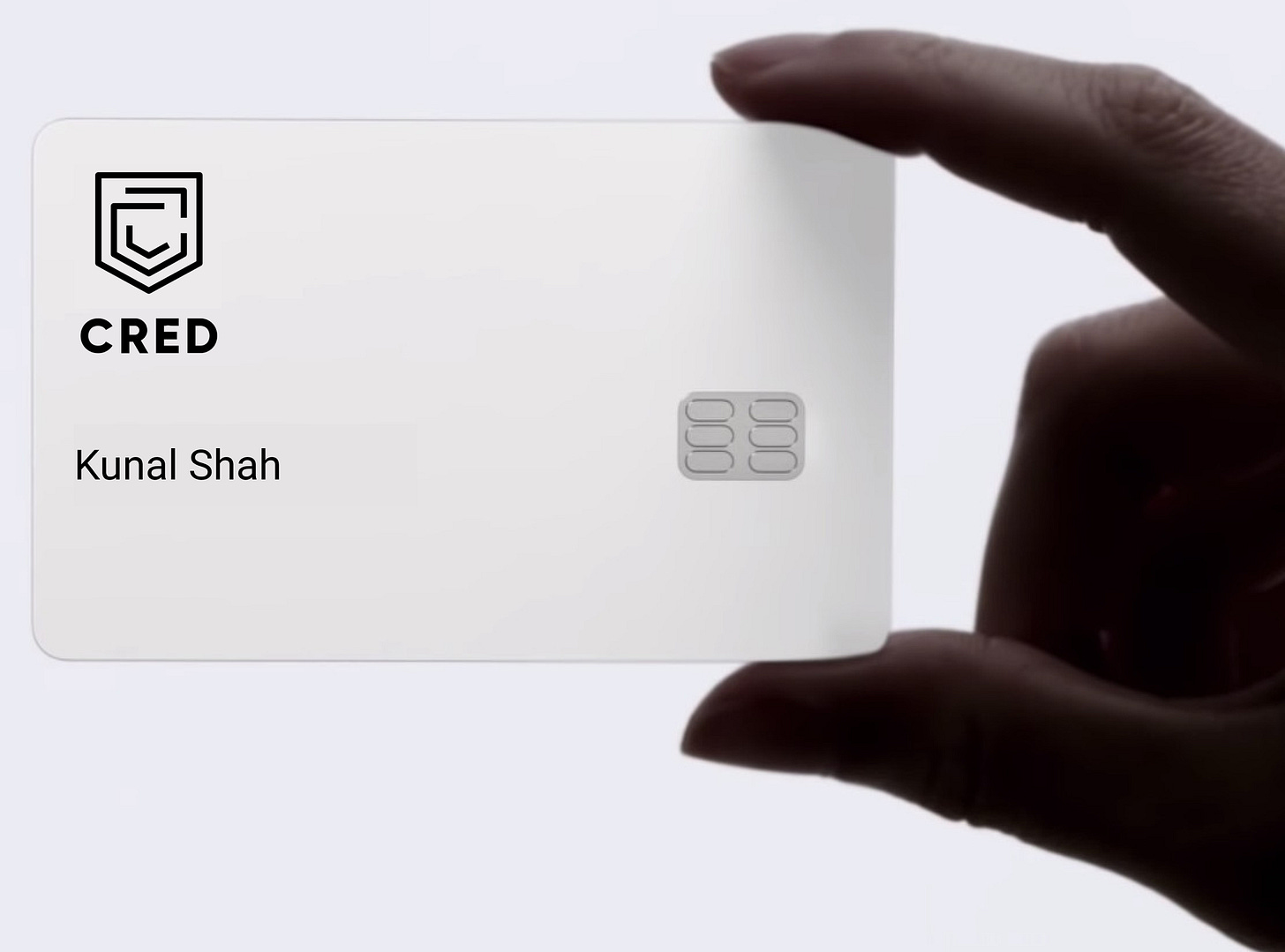 If we look at American Express, a majority of their revenue comes from "discount revenue" aka the fees Amex charges merchants for processing transactions (swipe fees), while a size-able amount also comes from membership fees on its premium cards. CRED has also created a distance between the relationship of a member with their credit card company- A user likely doesn't check their credit card app/website as much since they use CRED for that.
Hence, It makes sense for CRED to start issuing cards itself and own the entire stack a customer's credit card experience. Moreover, with Card Issuing API companies like Happay and YAP, it has become much easier to launch credit card products without having to build out the infrastructure yourself, and we've seen other companies partner with banks to launch co-branded or premium credit cards like Ola and OneCard.
CRED could also price their card with substantial annual fees- Amex's Platinum card in India has an annual fees of ₹60,000, so CRED could reasonably have an annual fees of ₹20,000 or more. Simply building a product with an empathetic customer experience/support team would make CRED's credit card significantly better than most Indian banks.
Moreover, CRED could structure their rewards in a way to better align with rich urban millennials (ride-sharing, digital subscriptions, travel & rent). And lastly I think CRED could expand on their physical experiences. Pop-Up CRED lounges at airports, music events & cricket stadium (once India returns to a state of normalcy) would be a big hit and would also serve as a brand advertisement to drive other individuals to the platform (if you go to an IPL game and get a free beer & burger, who wouldn't want that?).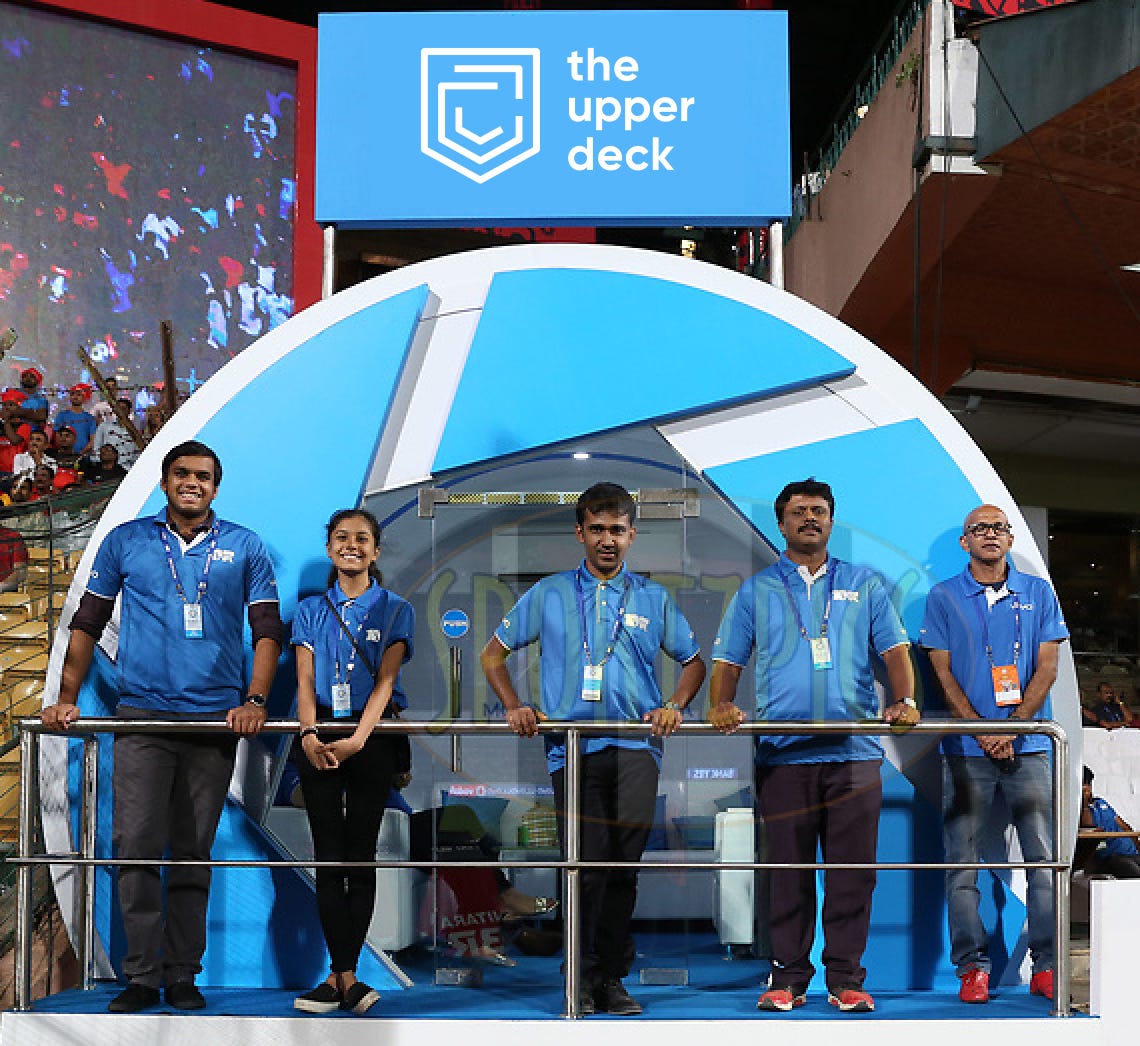 Now CRED has a community of the richest and most creditworthy individuals, a thriving marketplace with premium products and services, and their own credit card product & membership with better digital & physical rewards. What is the final piece of the puzzle?
Payments.
UPI has made online transactions super seamless, but it has resulted in a shift towards real time payments vs purchasing with credit. CRED could build a product that makes the credit card checkout process as seamless & intuitive as using Google Pay or PhonePe, since they already have it within the app to pay for products & services. They can take their internal payment service (pay with card + CRED coins) and offers it to online businesses and marketplaces (this is what American Express has with Express Checkout). It gives consumers an easy way to use the credit card and utilize their CRED coins, while it ensures a lower fraud rate for the merchant (CRED is accountable for having trustworthy members on their platform). If you were shopping on Flipkart and were able to pay seamlessly with your credit card through CRED and also use some of your coins to reduce the price, why wouldn't you use it?
And what's in it for them? CRED becomes so deeply integrated in your life while making purchases and CRED is able to extract a lot more value from their members, while simplifying their lives and making it easier to do & manage all their spending.
---
Funding & Financials
Let's also quickly look at CRED's funding history & financials over the years to see the company is positioned to do over the next couple of years. As mentioned earlier, CRED raised a $30M seed round from Sequoia India, Ru-Net & Ribbit Capital in June 2018.
It followed by a ₹177 Cr (~$25M) Series A in April 2019 led by a bunch of prominent angels in both India and the US (Sriram Krishnan, Amrish Rau, Akshay Kothari, Sriharsha Majety, Jitendra Gupta + more) as well as a couple of early venture funds including Rainmatter (Zerodha's Fintech fund), Ganesh Ventures, Whiteboard Capital among others.
And lastly, they raised a large Series B ($120M) led by Sequoia India, Ribbit Capital & Gemini Investments with further participation from Tiger Global, Hillhouse Capital, General Catalyst, Greenoaks Capital and Dragoneer. And with that, CRED has raised a total of about $175M and was last valued between $430 M - $450 M in August 2019.
Currently we only have data on CRED's operations for FY19 (April 2018 - March 2019), while the company started building sometime in mid 2018. In FY19, the company had total expenses amounting to ₹64 Cr, while only generating ₹3 Cr in revenue (from interest on deposits) for a total loss of just under ₹61 Cr (Marketing & Communications & Employee Benefits were the company's core expenses amounting to ₹38 Cr).
And while the company might have generated some negligible revenue in FY20 (April 2019 - March 2020), let's assume the company tripled its total expenses and accumulated losses of ₹180 Cr in FY20. This would mean in their first two years of operations, CRED spent about ₹240 Cr. But the company has barely even started spending any of the capital they raised in their Series B, as they've roughly only spent $32M (out of a total $175M) and even if the company continues to spend aggressively, they have a runway well north of 24 months (and I think the company will start generating considerable revenue by then).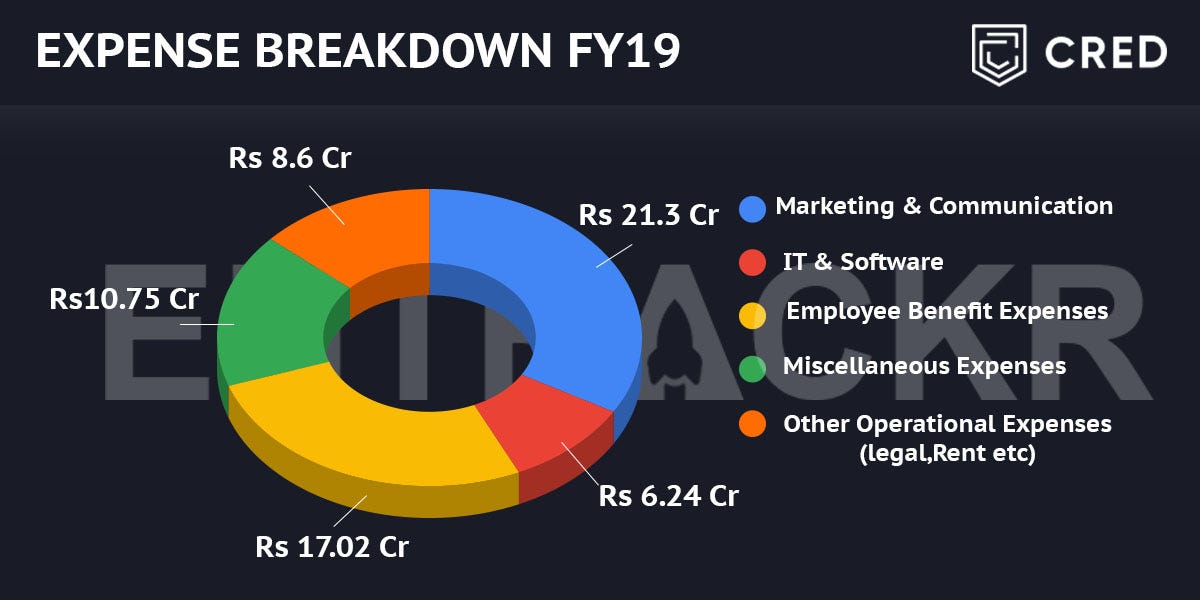 Which is why when people say "CRED has an existential crisis" or that CRED doesn't have a business model, I tend to take it with a grain of salt. CRED has access to an enormous amount of capital, and is building financial products for the 1% of India with a large engaged member base. If they can't build a profitable business on the basis of that, I don't think anyone can build a large profitable startup in India.
---
The Luxury of Time
I'm going to wrap up the conclusion with a quote from one of my favorite rappers, Pusha T, about naming his last album "DAYTONA".
Daytona represents the fact that I have the luxury of time. That luxury only comes when you have a skill set that you're confident in.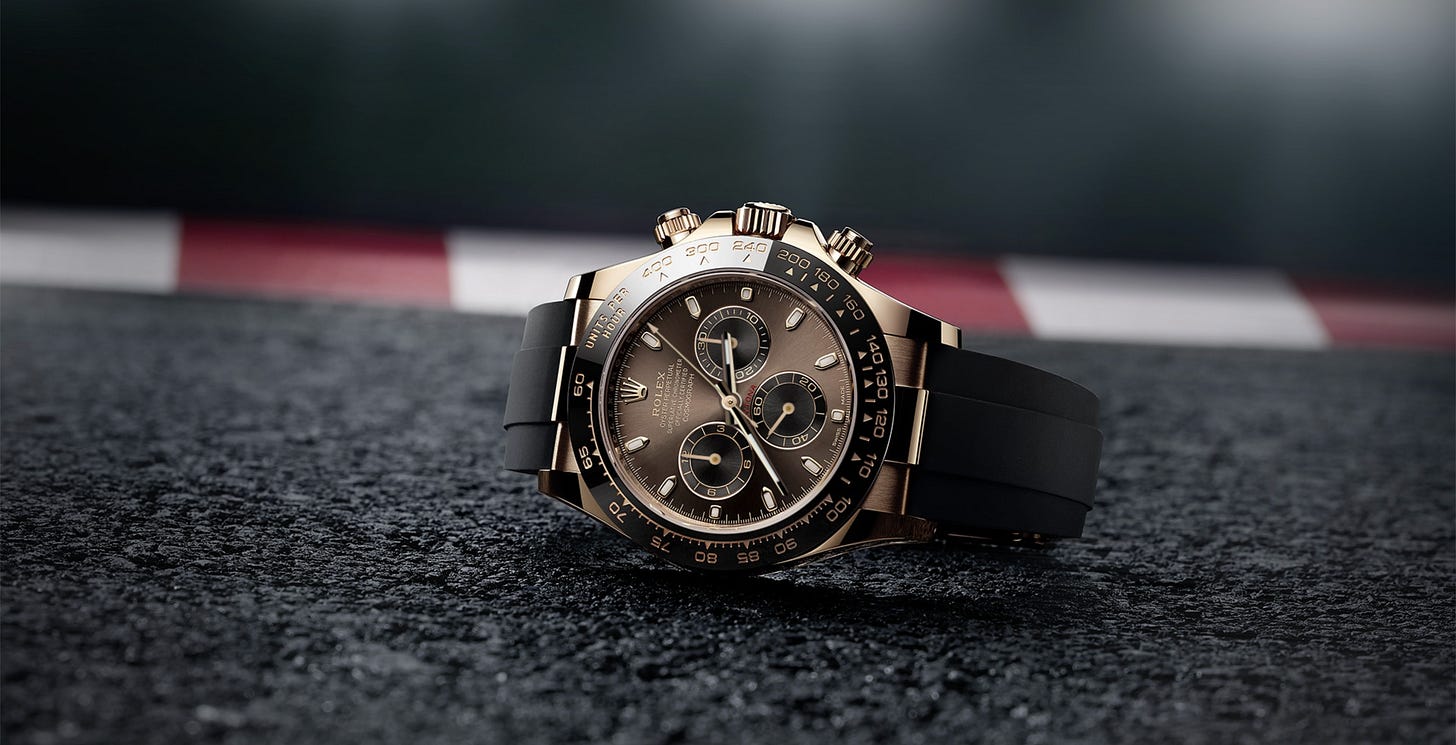 Similarly, Kunal Shah has the luxury of time for building CRED into the company he envisions it to be. He has that luxury because he has access to capital & talent, knows how to build & scale companies and he definitely knows how to generate returns for his investors. People can say all that they want about CRED, Kunal doesn't really need to listen to them.
In only 20 months of operations, CRED already processes about $1B in monthly credit card payments in India (12.5% of the total credit card payments), and over time they will continue to conquer the market. If CRED can't build a profitable financial behemoth in India despite having people who spend the most amount of money in the country, no one can.
My money is definitely on Kunal & CRED. And the haters can continue hating from outside the club.